What is Gestational Diabetes
Gestational diabetes is a term used to indicate high levels of blood sugar during pregnancy. Having gestational diabetes does not indicate any abnormality in the fetus, but it is essential to ask help from the doctor and take steps that are necessary to manage this condition.
Gestational diabetes may progress to severe complications if it remains untreated. There is a possibility of damaging the fetus if it is untreated. If this is your case, then the blood glucose levels might rise significantly high. The females who are suffering from this type of diabetes are generally advised to give birth to their child in the 38th week of pregnancy.
However, giving birth between 38th and 40th week of pregnancy with a clinical history of gestational D will not be a risk-free delivery. Therefore, maintaining healthy blood sugar levels throughout pregnancy is not only essential but mandatory as well to have a trouble-free delivery.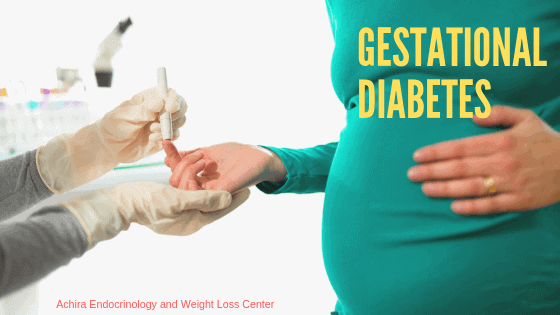 Symptoms
The pregnant women who experience gestational diabetes have few or no symptoms at all. Most of the patients learn about their condition during their routine lab tests and screenings. If the diabetes is on extreme levels, you may notice changes like
Excessive thirst
Frequent hunger and more eating
Constant urge to go urinate
Nausea
Blurry vision
Urinary tract infections
Vaginal discharge
General Causes
Researchers are still unable to determine the true cause of gestational diabetes. However, to understand how it occurs, it is essential to know how pregnancy can affect the overall processing of glucose in your body.
When you get pregnant, the placenta attached to the fetus starts making hormones that cause the building up of a large amount of glucose in your body. Generally, your pancreas can cope up with the situation by producing enough insulin. However, if that doesn't happen, the levels of sugar in your blood starts to rise and will eventually cause gestational diabetes. High blood glucose levels are associated with various complications in the pregnancy. It is very risky during early pregnancy, particularly within the 13th week of pregnancy.
Risk Factors
Every year, around two to ten percent of pregnancies get affected due to gestational diabetes. The chances of getting this type of diabetes are even higher if you have any of the following conditions:
If you were overweight before getting pregnant
Ethnicity is Hispanic, Asian, African American or Native American
Occasionally suffer from high blood sugar levels
If you have a family history of diab An endocrinologist is a specially trained doctor. Endocrinologists diagnose diseases that affect your glands. They know how to treat conditions that are often complex and involve many systems within your body. Your primary care doctor refers you to an endocrinologist when you have a problem with your endocrine system. etes
A clinical history of gestational diabetes in your previous pregnancies
If your previous baby was more than 9 pounds in weight
Congenital disabilities in your past pregnancies
If you are older than 25 years
Your special Diet
In gestational diabetes, there is a wide range of foods. Generally, nutritionally rich foods and meals are suggested. The food choices include fruits, vegetables, low protein foods, low-fat diet, low-fat dairy products, unprocessed foods, legumes, whole grains. Carbohydrates play a vital role in maintaining blood glucose levels within the normal range. The moderate amount of calorie intake is recommended in gestational diabetes. Starchy vegetables such as peas and corn are very beneficial.
Diagnosis
Usually, gestational diabetes occurs during the second trimester. During this period, your doctor will run some tests on you to determine our chances of gestational diabetes during 24 to 28 weeks of your gestation.
To run a gestational diabetes test, you will drink a sweet beverage that will increase sugar levels in your blood. After one hour, you will take a blood test to see changes in your body. If there is a high amount of sugar in your blood, you will take some more tests during fasting and a lengthier glucose test.
Research studies have revealed that PCOS is one of the possible causes of gestational diabetes. Though gestational diabetes constitutes only 4% in the pregnancy, however, various factors are involved. Furthermore, if a female is overweight or obese, there is an increased risk of gestational diabetes in their pregnancy. Pre-diabetes can also be contributing factors.
Treatment
To treat your gestational diabetes, the doctor will ask you to:
Keep checking your sugar levels four times a day
Take urine tests to check the presence of ketones in your system
Eat and maintain a healthy diet according to your doctor's recommendation
Cut junk and sugary foods from your daily diet plan
Light exercise regularly 
Gestational Diabetes Clinical Complications
Some general complications inlude:
High birth weight
Early baby birth
Respiratory distress syndrome in baby
Low blood sugar in the baby
High chances of cesarean for mother
Preeclampsia and high blood pressure problems
Diabetes for a lifetime
Higher chances of diabetes in future pregnancies
Looking for Endocrinology in Metro Detroit Area? Call Achira Endocrinology at 313-600-4669​ for an appointment to learn more about how Dr. Achira Can help you. Click here to Contact us. You can also schedule an appointment on Healow by clicking here.